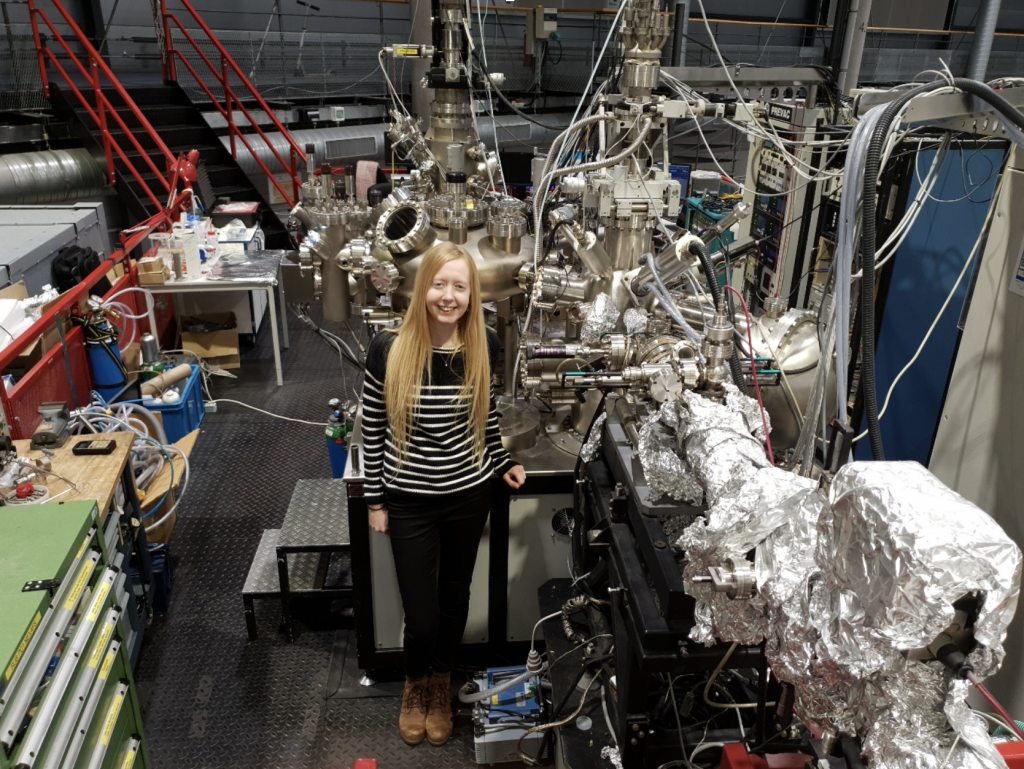 A careers interview with JHI physicist Dr Karen Syres features in the May 2020 edition of Physics World magazine. This is the journal of the UK Institute of Physics (IOP). Physics World Editor Joe McEntee talks to surface scientist Karen Syres about striking a balance between teaching and research while also building visibility and connection with the scientific community.
The focus of Karen's research is the physics and chemistry of surfaces. Joe asks Karen, what are the drivers here and does your research have commercial implications?
"Fundamental studies such as this are important because what happens at the interface often dictates if a device will succeed. In solar cells, for example, the energy-band alignment between material layers determines how effectively charge is transferred, while the surface chemistry in biomedical implants can affect the healing time in patients. Ionic liquids are a big part of my work. This class of salts shows great promise for transforming industrial processes such as gas-capture and separation, catalysis, corrosion protection and lubrication."
Karen carries out most of her research at big-science facilities across Europe. Joe asks Karen, how does this arrangement work in terms of efficiency and research outcomes?
"Most of my research is carried out at European synchrotron facilities – including the Diamond Light Source in the UK, ASTRID in Denmark, BESSY II in Germany and MAX IV in Sweden. It's an attractive way to do research because somebody else has the job of maintaining all the expensive equipment, while my colleagues and I just turn up for a week and use it. If the experiment goes as planned, you can easily get enough data for a chapter of a student's thesis – hopefully enough for a journal paper as well."
Joe asks Karen about being an active member of the UK surface-science community and about organising outreach events.
"I joined the Thin Films and Surfaces Group of the Institute of Physics in 2014. I'm now vice-chair of the group and it's provided all manner of opportunities to develop my broader skill set, expand my contacts network and build wider recognition in the field of surface science. I enjoy getting involved in outreach activities, although planning them can be time-consuming. At UCLan, for example, we hold the Lancashire Science Festival every year. Since I've been in Preston, I've organized the physics stand for the festival, including a popular magnetic-levitation railway demonstration that I designed and built. I've also taken some students to our UCLan Cyprus campus for the Cyprus Science Festival – an activity made doubly interesting by the language barrier."
Joe asks Karen, what's next for your research career?
"The priority is to win some bigger grants, add a few postdocs to my team and gain wider international recognition for my research."
The full article can be read on the Physics World website: https://physicsworld.com/a/shedding-light-on-the-interfaces/