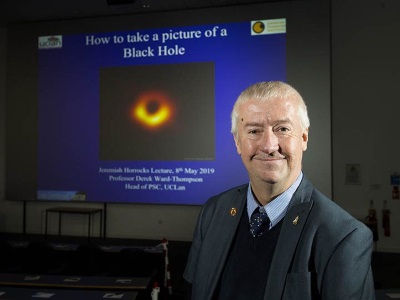 Professor Derek Ward-Thompson was appointed to the Council of the Royal Astronomical Society (RAS) this May. The RAS was established in 1820 to encourage and promote the study of astronomy, astrophysics and the solar system. Today, the RAS includes almost all professional astronomers in the country, including PhD and postgraduate students. But the society is also open to amateur astronomers so that members of the public with a keen interest in astronomy have access to the most recent discoveries and news from the field.
On his appointment, Professor Derek Ward-Thompson said "It's quite an honour to be asked to do this. It's a great opportunity. I see it as a chance to actually influence government thinking, perhaps even government spending on science in general, and astronomy in particular."​​​​​​
As a Councillor, he will be part of a team of twelve, including the president and two vice-presidents, who are responsible for overseeing the running of the RAS. This includes organising their monthly meetings, the publications of academic journals and the in-house magazine, Astronomy and Geophysics. The Council is also responsible for organising the National Astronomy Meeting, which is hosted by a different University each year, (UCLan has been a previous host). This event is an opportunity for the astronomical community to come together for a national conference and includes a gala dinner where the RAS awards medals and awards to specific members to recognise and celebrate outstanding achievements.
But for Derek, the work that he is most enthusiastic about is the RAS's role in advising the Government on astronomy related subjects. He said: "The one thing the RAS do, that I see as most important, is the lobbying of the government, especially over funding for science, for universities and for university science departments. The RAS has a national role as the voice of astronomy."
Government Select Committees and research councils consult the RAS regularly on a range of topics including science funding, grant policies, and issues such as light pollution, which has a huge impact on people's access to the night sky. Derek explained why he believes this lobbying work is so important:
"When you last saw a shooting star or the Milky Way, how did it make you feel? Did it make you feel small? Did it give you a sense that there is something larger? For me, that's all part of what makes people realise our planet's tiny place in the cosmos and how we've got to look after it.
"Apollo 8 was the first mission to contain a human crew that went round the far side of the moon, and it took a very famous photograph of the earth rising over the moon. The image of this pale blue orb hanging in all of that blackness suddenly made people realise that the earth is unique. It is a very special place and we really do have to look after it.
"That was in 1968, and that photo been credited with birthing the green movement, as people realised that we have to do something to protect our planet. The climate change awareness of today, would not have happened in the same way, without human beings going into space."