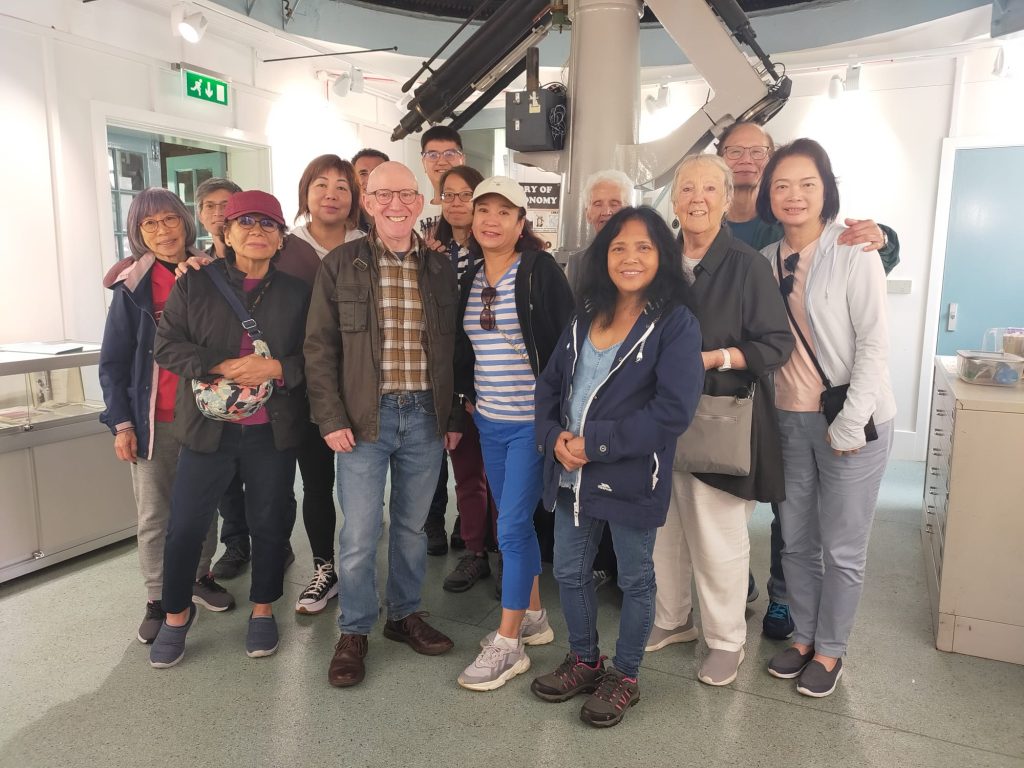 The Talk English group was set up seven years ago when an ecumenical group based at St. Cuthbert's Church, Preston met to try to meet the needs of the many asylum seekers arriving in Preston to learn English. Meeting weekly to help their many needs (such as helping them open bank accounts, register at a surgery for medical needs, help with form filling for the courts for leave of remain, find housing), the group also engage in educational trips such as history walks around Preston.
On the morning of Monday 24th July, Dermot Gethings from the Preston & District Astronomical Society (PADAS) hosted 15 asylum seekers from the Talk English group at a visit to the Jeremiah Horrocks Observatory (JHO), Moor Park.
Using the many resources currently at the observatory, Dermot explained about the history of Preston's Observatories, their past and present use, and about the Cooke 8-inch refracting telescope. He also explained about UCLAN's prominent role in astronomy. Following this he gave a PowerPoint presentation 'How Big is Space' compiled by Dr. Mark Norris. The group found this fun, really engaging and fascinating, and were in awe about the sizes of the planets, solar system, the Sun, stars, galaxies and our Universe. The morning ended with many questions and answers and 15 very happy people left the observatory at noon.
Dermot was very delighted to host this group, saying that "Clutching flyers, stickers and pictures I had given them, I saw a sparkle in their eyes as they look forward to returning to the JHO for the winter public observing open nights and they would like to visit Alston. Preston astronomy is now reaching and touching people escaping from the dangers of war and persecution as they embark on a new life in our city."